When you're on the hunt for a quality senior living community, it is important to make sure that they are meeting all of your needs, but also, your wants, too! After all, your golden years are now upon you and you deserve the best quality of life. Good food, socialization, fun activities, and pampering should all await you at your new home!
Memory care especially comes with its own set of standards that you should be aware of so you know not to settle. That is why if you're looking at Escondido memory care communities, we have some suggestions on what you should keep in mind prior to making a final decision. 
Dining Options
Food is one of life's greatest pleasures, and quality dining is not something you have to forfeit should you move to a senior living community. In fact, you should be able to relax and just enjoy the amazing, delicious food and have it served to you. Long behind you are the days of tedious meal planning and washing endless dishes!
When touring the community or making initial contact, be sure to ask a lot of questions, especially about the food. For example, what does the menu look like? How does the facility handle dietary restrictions and ensure food safety? Are meals available only at designated times, or are there snacks available throughout the day, too? It's important to make sure that all of your bases are covered so that your loved one has the best dining experience. 
Here at Vista del Lago, we are proud to offer up meals that are nutritious as well as savory. You don't have to sacrifice your tastebuds for good health! Check out our sample menu for just a short look at the kind of meal options we have here at our Escondido memory care facility. 
Recreation and Activities
Leading a full, enriched life means continuing to engage in the hobbies and activities that are important to you. Routine exercise and wellness, as well as regular socialization, is good for the body and mind. This will help to combat medical issues while in tandem, work to prevent depression and loneliness.
This is why becoming a part of a senior living community with a robust activity calendar is so very important. When talking with the facility representative, find out what sort of activities are offered each day, and if there is a wellness program geared to physical activity. 
At our Escondido memory care facility, we offer a huge array of activities for our residents. This includes board games, Bingo, trivia, exercise time, documentaries, movie nights, and so much more! We even plan fun events close to specific holidays to help keep our residents engaged and in the holiday spirit.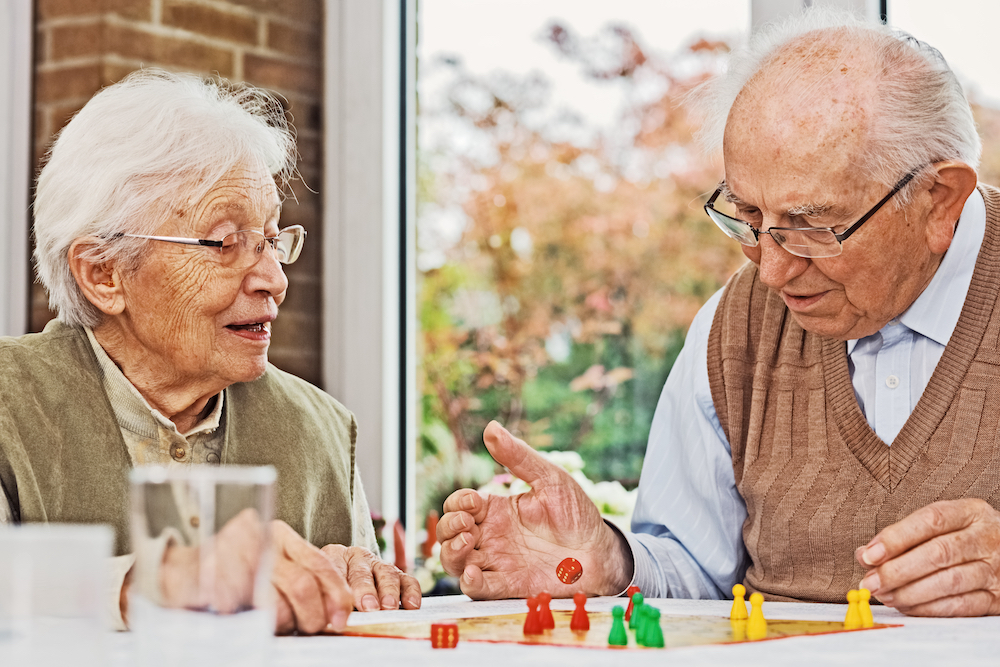 Transportation Services
If your loved one has doctor's appointments to get to, and they need a ride because you work or live a ways away, it can be a stressful situation. However, that is why it is important to discuss any possible transportation needs in advance with the senior living community that you are touring. 
Be sure to inquire: is there an additional cost for transportation? If so, how much? Will you be contacted any time your loved one needs to be transported off site? Asking this in advance will help you be better prepared.
Outdoor Area / Green Space
Spending time outdoors is healthy, as is getting fresh air regularly. Most senior care communities offer a patio or other outdoor area where seniors can sit, relax, socialize, and enjoy the sunshine and cool breeze. No one wants to be cooped up indoors all day, and this sort of outdoor space helps soothe the soul.
Here at Vista del Lago, our outdoor patio area is spacious, and features several picnic tables with covered umbrellas, as well as beautifully landscaped flowers and shrubbery. We also have a community garden for residents who want to get their hands dirty and enjoy gardening. Plus, we also have an outdoor entertainment area for our residents as well. Rest assured that all of our outdoor spaces are secure and safe for your senior loved one.
Beauty Salon
Growing older doesn't mean we should have to sacrifice how we look or neglect our beauty routine. In fact, we think you've more than earned your chance to relax and be pampered. We believe that how you see yourself greatly influences your mental and physical well being. Which is why we want you to not just look good, but also feel good!
Our beauty salon is located in our facility, meaning you don't have to worry about traveling from one location to another. Our services are done by certified and caring professionals, and all services are available for both men and women. So whether you want a simple hair cut, or you want to add a bit of color, or maybe even get your nails done, you can enjoy that all on-site! 
As an added bonus, we have gift certificates available that families can purchase. With the holiday season approaching, this would be a great gift for your loved one that resides in our community.
Memory Care
If your senior has been diagnosed with Alzheimer's or dementia, it's important that they spend their time in a senior living community that is specially designed to help with these specific issues. 
Memory care requires a special level of care, including having staff and nurses dedicated solely to supporting and caring for those with a memory impairment diagnosis. Unlike other communities that offer memory support attached to a larger entity, our entire community is designed to meet the needs of our residents living with memory loss and cognitive decline.
Don't Settle
Our main point is this: don't settle or compromise for sub-standard. Your senior loved one deserves the absolute best, and they're going to find it at our Escondido memory care facility. From the finest dining options, to enriching activities, all the way to our beauty salon, we know that our amenities are there to give our residents the best experience and quality of life possible.